HMS Bounty's Captain Sends Winlink Message -- Saves 14 Crew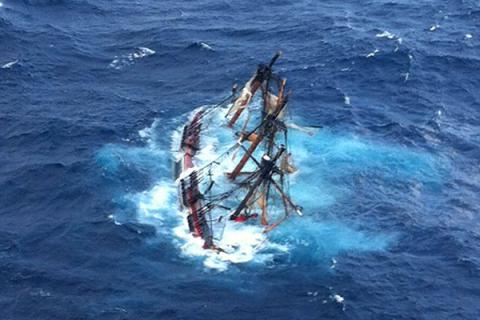 Read the complete ARRL story.
On Monday morning, October 29, the tall ship HMS Bounty was in the embrace of Hurricane Sandy 90 miles off Hatteras, NC and taking on water. Doug Faunt, N6TQS, survivor and ship's electrician, told the ARRL that the Bounty crew tried various methods to call for help, including a satellite phone, "... we got nothing when tried calling out on HF. We tried calling the Maritime Mobile Net, but nothing was out there. We had Winlink on the ship that we used for e-mail and accessing the Internet to post to blogs and to Facebook, and we finally found an e-mail address for the Coast Guard. As a last-ditch effort, we used Winlink to e-mail the Coast Guard for help. Within an hour, we heard a C-130 plane, and later, a helicopter overhead." According to Faunt, it was Captain Robin Walbridge, KD4OHZ, as master of the ship, who sent out the distress messages.
The US Coast Guard has suspended its search for Robin Walbridge, 63, the missing captain of the replica tall ship.
The messages have been removed from the Winlink system and turned over to US Coast Guard authorities for their investigation.
Faunt posted this message to a ham RTTY group about two weeks after the rescue.
UPDATE: The Winlink messages leading to the rescue have been made available for viewing by the public, along with the final USCG report, on the USCG web site.
The dramatic Coast Guard rescue of 14 crew from liferafts can be seen in the video below.